24 Elite Villas 
A stunning home with every upgrade and every feature. If you enjoy waking up to the sight of the breathtaking sea, this is the villa for you. Located first in line, very close to the sea, this truly elite villa invites you to take a sip in the pool whenever you want to feel refreshed and energized, or relax by the magnificent verandas and balconies.
The villa has 2 floors, ample space, an extravagant living room and 4 bedrooms. The high-quality glazing facade, enables natural light in all areas of the villa, creating an open and bright space which offers panoramic views wherever you look. A unique and elegant abode, superior in every aspect.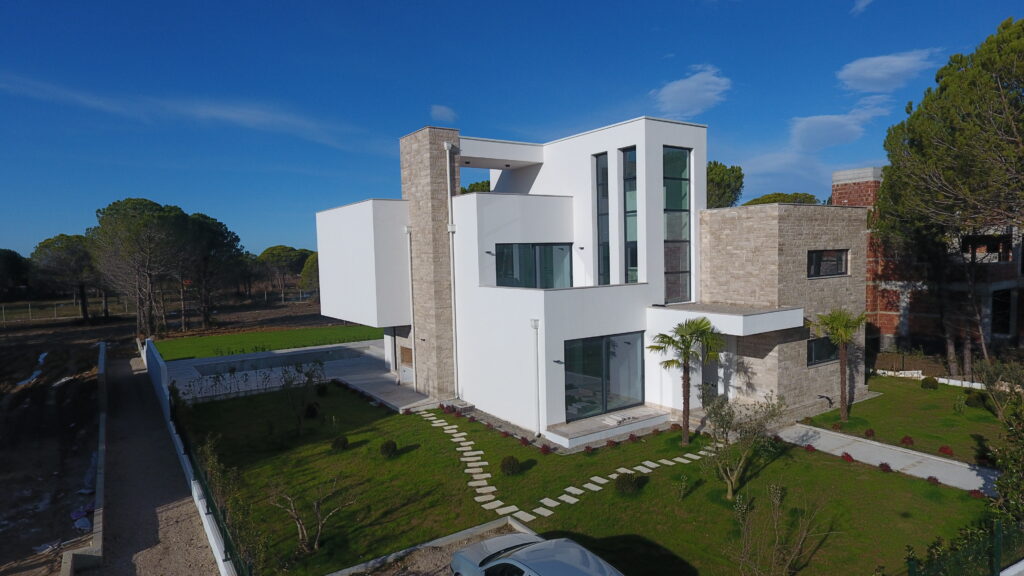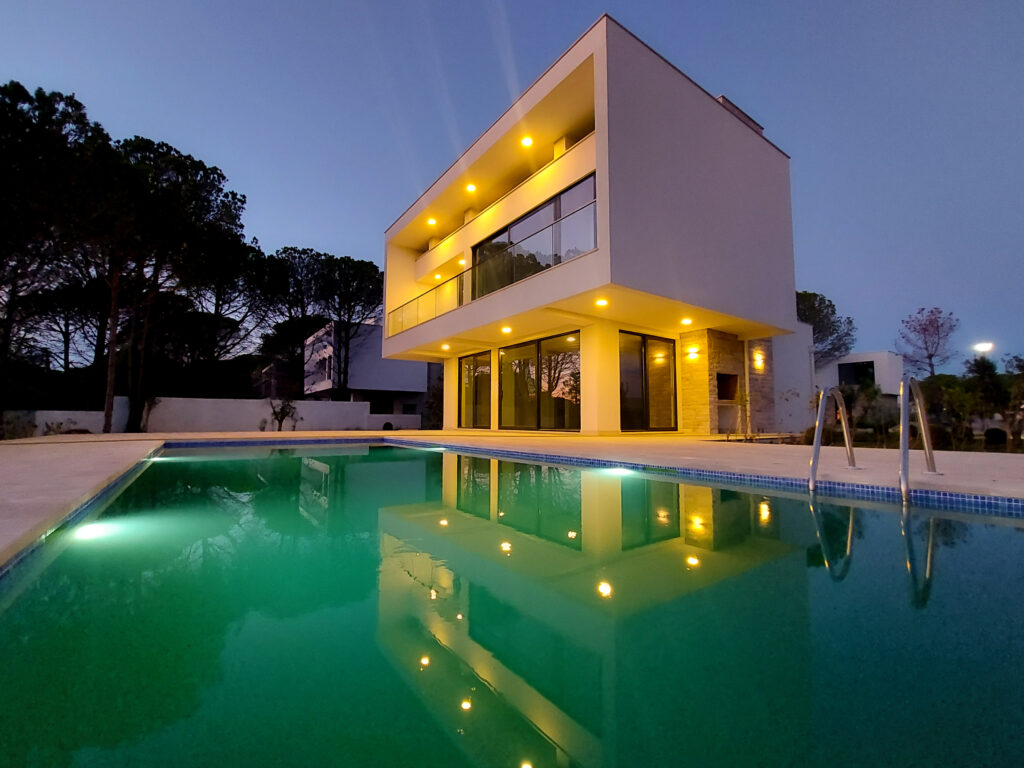 79 Individual Villas
 Individual villas, only 250-300 meters from the seashore, offer a sophisticated, bright space with two floors, a large living-room, and 3 alluring bedrooms.
The villa is within a large plot and spacious enough for a swimming pool, surrounded by tall trees, creating a private, delightful atmosphere and experience every day. A house with timeless elegance. Designed for couples, families or solo travelers who value extraordinary dimensions.
53 Semi-Attached Villas
Semi-attached villas account for most of the resort's space, and for good reason. Full height glass façades, large verandas with pergolas on top, stone and pastel colors, where a peaceful white color dominates, combining the Mediterranean and modern elements of design and materials to create the perfect mixture.
They have individual entrances, east-west oriented, 2 story high and have a spacious living room on the ground floor, which offers better hydro isolation, and 3 capacious bedrooms on the first floor. They all have sea views, large verandas on both floors enabling panoramic views and merging interiors with the wonderful surrounding Nature. A great lifetime investment offering anything you could ask for in a villa. Live in luxury and style.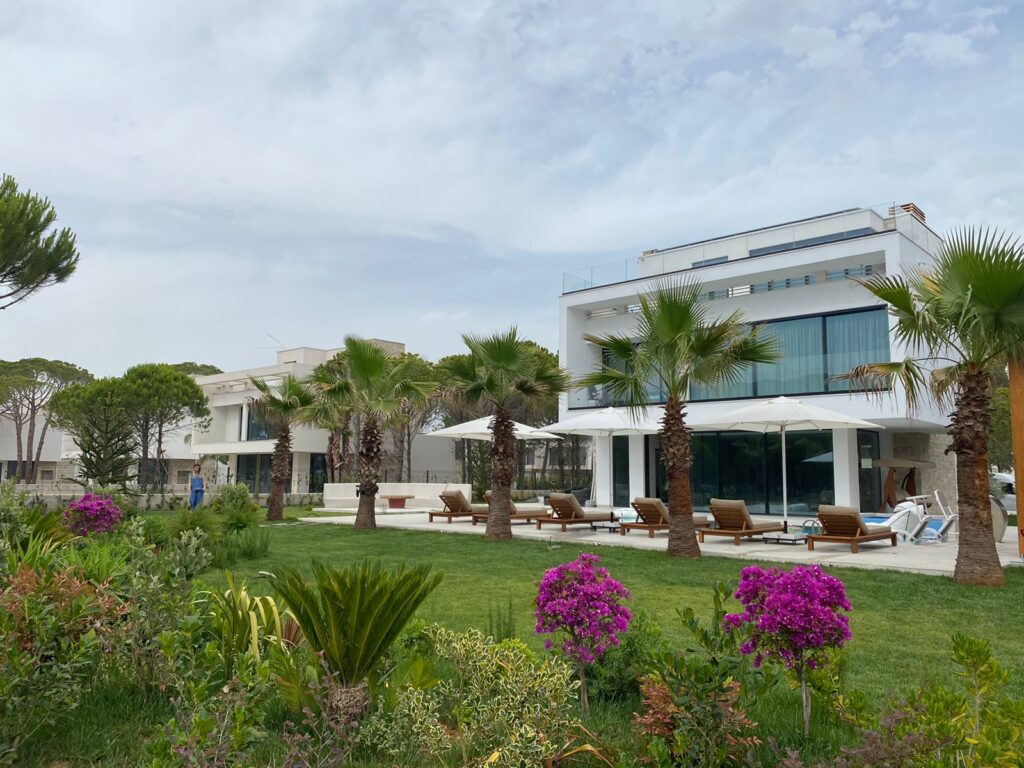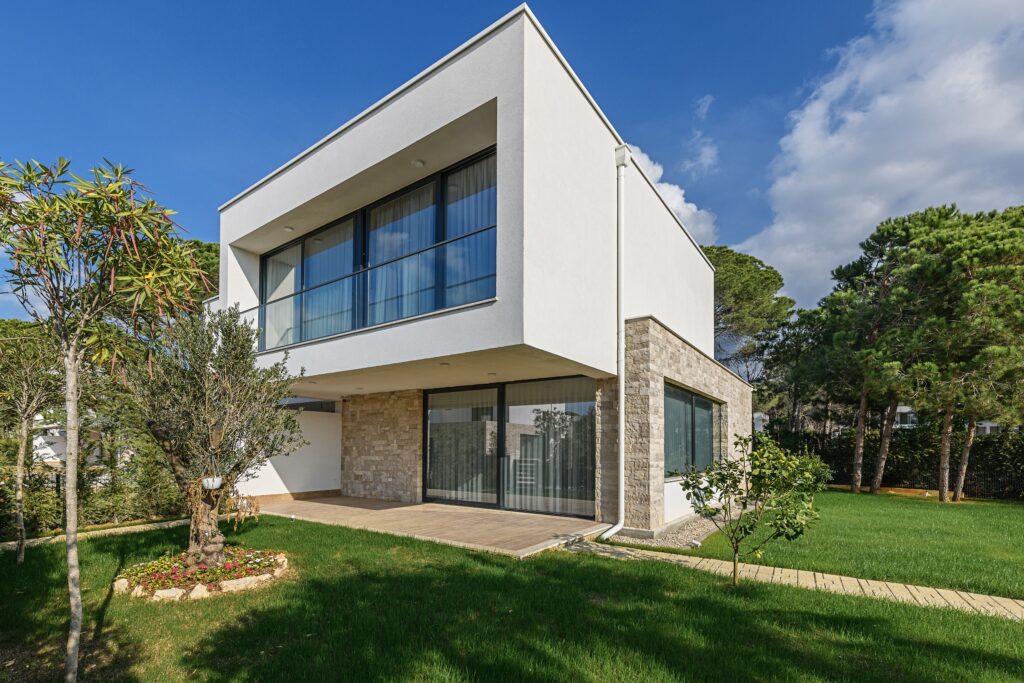 15 Attached Villas
 Located in the quieter area of the Resort, organized in two floors and with 4 individual entrances, four-story villas are perfect for a wide array of clients. Each villa has a spacious living room on the ground floor and 2 bedrooms with a beautiful veranda on the first floor. Spaces are optimally organized and perfectly shaped to guarantee privacy and a very relaxing time.
High standards, quality services, an exclusive resort on a plot of 350.000m2 and 1500m coastline with an exclusive beach, tall pine trees. An oasis and just the right home for your lifestyle.
660 Apartments
The Palazzinas are 3 story buildings that offer spacious and functional apartments, 1 + 1 and 2 + 1. San Pietro resort offers many wonderful sights and activities, such as historic sites, fishing, bird watching, running, cycling or the lovely picnic by the beach while enjoying the sunset.
Contemporary design with Mediterranean touches in the first luxury resort of its kind in Albania. Innovative architecture, large balconies, spacious areas, barbeque space included and their own individual green garden for ground floor homeowners.