Resort
Designed to be luxurious and unique, the resort will have 140,000m² divided into 4 dif ferent types of villas, 4 dif ferent types small apartment blocks and a 5-star Hotel, no more than 3 storey high. The buildings footprint is no more than 51.500 m² stretching on a beautiful area of 350.000m², thus maintaining a low construction ratio, less than 15%. Such a careful planning preserves the current greenery and seamlessly fuses the construction with nature by making it part of it.
The entire complex is surrounded and controlled by security cameras and guards. The complex has 3 main controlled entrances, one for the hotel and the 2 others for the r esidential area.
The Tourist Village has direct access to the beach, 1500m of exclusive coastline 190 m wide. Then the construction area begins within the pine trees and existing greenery.
An important part of the design is also the abundant road network as well as the bicycle and pedestrian alleys, giving the latter the advantage. This network is designed in order that each villa or apartment is accessible by car and has enough parking for everyone as well as for guests.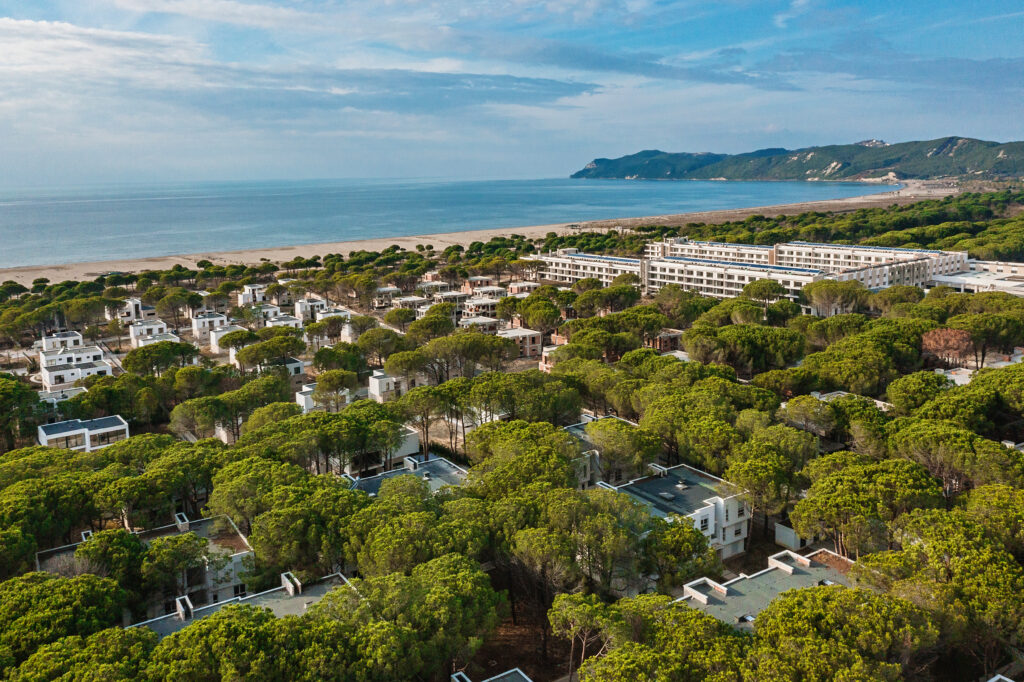 The wide, long promenades peak at the 3 small squares and extend up to the beach. Such small squares will have different types of shops that will serve all necessary needs of customers, starting with restaurants, coffee bars, super markets…etc. Thus, the entire family can relax within the resort without worrying that they might miss their favorite entertainment.
The infrastructure network is well planned and connected to the main, local network. Infrastructure will be implemented according to EU standards and it will consist of: 24 hours of the power supply and drinking water network; Sewage and drainage network; Fire prevention and safety system; Irrigation System and Street Lighting System. San Pietro Resort, with a giant investment, the first of its kind in Albania, provides you the finest quality in design and construction, by offering maximum guarantee for your investment.